OURLADY ROSARY PRAYER GROUP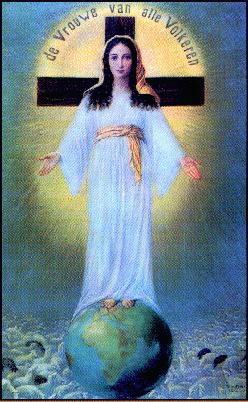 Today after a prayerful consideration, I would like to form a Rosary prayer group of which each member will be joined to each other by a spiritual bond, will offer five decades of the Glorious Mysteries of the Holy Rosary each Wednesday for the intention of the Immaculate Heart of Our Lady and for all the intentions of the group members.
Each week the member of the group email me his or her intention(s) and I will post them on this page. You can use your nick name or your real name if you choose. My nick name will be DAL. No address should be sent to me and I promise to keep your email address to myself. I will post your comment or your input on this page if you so desire. My email address is einna@catholic.org
Check back this site frequently to view the updated intentions and membership listing, and any personal inputs, testimony, stories, or anything you want to share with the group here.
There is no rule for initiation, just email me to tell me that you want to join us, give me your nick name and your intention(s). And I will email you back and post your name and intention on the list.
Please do not ask me any thing about prophecies or Marian apparitions as you can always read those for yourself by reading my pages. And also because I am very short of time. Please put down ROSARY PRAYER GROUP as the subject of your email message to me.
I will consecrate our prayer group to Our Blessed Mother tomorrow in front of the Blessed Sacrament.
May the Lord Dearest and Our Mother bless us.
September 19, 1998
MEMBERS
| | | |
| --- | --- | --- |
| NICK NAME | DATE JOINED | INTENTIONS |
| Shawn | 10/13/98 | general |
| KEG | 10/30/98 | general |
| DAL | 9/19/98 | end of abortion |
| OhioBn2 | 11/3/98 | Second Coming of the Lord |
| Fran | 11/5/98 | our families |
| maureen | 11/6/98 | Christian |
| Margaret | 11/7/98 | Peace in all families |
| Mike D. | 11/23/98 | general |
| April | 12/2/98 | souls in Purgatory |
| Justin | 12/10/98 | conversion of sinners |
| Jackie | 1/11/99 | conversion of sinners |
| Terre. | 1/27/99 | end of abortion |
| Scatts | 2/14/99 | end of abortion |
| Richard Kouchoo | 2/24/99 | general |
| Chandra | 3/9/99 | WW III averted |
| Evanina | 3/16/99 | Daughter Sara&family |
| Tony Lehnig | 4/14/99 | End to child abuse/abortion |
| Michael Simbok | 5/1/99 | A child |
| Walt | 6/5/99 | conversion of sinners |
| James U. | 6/21/99 | His marriage&family |
| Antonia | 7/2/99 | Priestly Vocation |
| Irene | 7/2/99 | personal, family, world salvation |
| George | 7/7/99 | World Peace, Unity |
| Alice | 7/24/99 | health, job, peace |
Please remember Christian and his family in your prayers. Three-year-old Christian is fighting a terminal illness called Hunters Syndrome. It is a progressive degenerative disorder that will cause him to lose his hearing, speach, mobility, and cause mental retardation. The life expectancy of these children is 10 to 13 years. He is a beautiful relatively healthy child at this point. His birthday is Sept. 15 , the feast of "Our Lady of Sorrows". He is a wonderful gift from God and his family pray for the strength to endure whatever Gods will be for him. The Lord can heal him if it is His will. Please
remember Christian and his family in your prayers. Thank you so much.
Please welcome Justin into our prayer group. Justin has turned his life to the Lord Jesus about one year ago and he is not a Catholic but he is willing to join our group praying for mankind. He is truly an inspiration for all of us.

GOD BLESS YOU FOR ALL THE WONDERFUL INFORMATION YOU HAVE PUBLISED
.WITH ALL MY HEART AND SOUL I AM AGAINST ABORTION. I WANT TO STAND UP AND
BE COUNTED. I DO AND WILL CONTINUE TO DO EVERYTHING I CAN TO STOP
ABORTION PEACEFULLY. I AM NOT CATHOLIC BUT I WOULD LOVE TO JOIN YOUR PRAYER
GROUP AND I LOVE THE BLESSED VIRGIN AND MY PRECIOUS LORD JESUS CHRIST.GOD
HAVE MERCY ON AMERICA.PLEASE KNOW THAT I WILL FOLLOW YOUR INFORMATION
FROM NOW ON AND INTEND TO PASS YOUR E-MAIL ADDRESS ON. I AM A MIDDLE AGE
MOTHER WITH THE MOST PRECIOUS CHILDREN, MY AWESOME GIFTS FROM
GOD!!!I LIVE IN LAS VEGAS, PLEASE LET ME KNOW IF THERE IS ANYTHING I CAN DO
FROM HERE TO HELP YOUR WONDERFUL CAUSE.I AM TERRE,, YOUR FRIEND IN
CHRIST!!!
(Message from Terre. Please join me to welcome her into our group.)


I am honored that you will allow me in your prayer group. My primary
intention is for an "End to child abuse/abortion." Also, the recognition
by the Church of the love and sacrifice of Our Lady, the Blessed Mother of
our Lord Jesus, in her inspirational efforts to bring us into His Heavenly
Jerusalem.
God bless you for your work, it is has truly been an inspiration for me.
Sincerely,
Tony Lehnig
(Please use as my group member identification).
You may post this if you like.